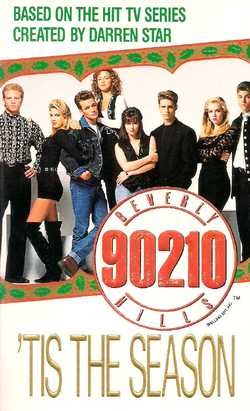 'Tis The Season — fifth novel in Beverly Hills 90210 book series written by Mel Gilden. It was published in november 1992 by HarperPaperbacks.
ISBN — 0-06-106-786-5
Printed in USA
192 pages
Contents
[
]
Includes introduction A Not So White Christmas. List of chapters:
It's Back
My Dinner With Chuckie
Dishing The Dirt
Ugly Twins
The Need To Konw
Life's Little Mysteries
The Last Dance
The Best Laid Plans
More Tinsel! More Tinsel!
A Stack Of Quarters
Simple Gifts
A Visit From St. Nicholas
«Happy Cristmas To All —»
«— And To Al A Good Night»
Episodes
[
]
Novel is based on season 2 episodes teleplay:
International Titles
[
]
Stastne A Vesele (Czech Republic)
Drukke Tijden (Germany)
Wesolych Swiat (Poland)
Photo Section
[
]
Front cover by Timothy White. Insert photos by Timothy White and Andrew Semel.
LINKS
[
]
https://soundcloud.com/9021hereweg0/interview-mel-gilden Mel Gilden Interview