BH90210 is a 2019 event series based on the original. It consists of 6 episodes and will air on FOX starting August 7, 2019.
Synopsis
Having gone their separate ways since the original series ended 19 years ago, Shannen, Jason, Jennie, Ian, Gabrielle, Brian and Tori reunite when one of them suggests it's time to get a Beverly Hills, 90210 reboot up and running. But getting it going may make for an even more delicious soap than the reboot itself. What will happen when first loves, old romances, friends and frenemies come back together, as this iconic cast – whom the whole world watched grow up together – attempts to continue from where they left off?[1]
About
In December 2013, Ian Ziering stated on Oprah: Where Are They Now? that he had attempted to sell a "loosely scripted" reunion special in which the original cast members appeared as themselves at a dinner party at his house, with a target airdate of September 2, 2010 to commemorate the show's numerical title; however, he failed to find a network interested in buying the project.[2] A few years later, Ziering indicated that Hulu had expressed interest in a revival series with the original cast in August 2016. [3]
In March 2018, it was reported that Garth and Spelling had partnered with CBS Television Studios to produce a 90210-related series in which they would play "exaggerated versions of themselves. [4] Then in December 2018, 5 of the original cast members were spotted together, reigniting rumors of a reboot featuring the original main 8 cast members (minus the Walsh parents and Scott Scanlon). Confirmation followed in January 2019 of a 'mockumentary-style' show with 6 confirmed original cast members (Shannen Doherty and Luke Perry were not signed on to appear at the time, however, Perry was stated to possibly appear as a guest star[5]). On February 27, 2019, it was confirmed that the 'mockumentary reboot' will air in Summer 2019 on its original network, FOX.[1]
Filming took  place in Vancouver, between May 21 and July 31 2019,[6] with principal photography having commenced on  May 27, 2019.[7] On April 26 it was confirmed that Shannen Doherty would also return to star in the series.[8] Doherty was revealed to also serve as an Executive Producer on the project.[9] On April 30, 2019, Gabrielle Carteris shared a photo of the entire cast gathered for the pilot.[10] The series is produced by CBS Television Studios.[11] Doherty's shooting schedule commenced a bit later than the rest of the cast, with her first day on  June 13, 2019[12]
Starring
Special Guest Stars
Guest starring
Reviews
The show has gotten mixed reviews based on the first two episodes sent to press.[21][22][23][24][25] As an aside, some reviews seem unable to refrain from '90s-imitating tabloid-gossiping about Doherty's relationship with the cast, though  most reviews retain a level of professionalism.[26][27][28]
Trivia
For the revival, Andrea, Steve and David dolls have been made, which weren't produced back when the first merchandise came out.
On April 30, 2019, Doherty and Spelling shared IG stories about having a promo photo shoot with the cast
From August 1-6, U.S. viewers could watch 10 episodes of  the  original Beverly Hills, 90210  tv series were available to stream, leading up to the premiere.[30][31] Some episodes were chosen based on a poll conducted in the official series Facebook group.[32] The episodes streamed were, in order:
Links
Join the OFFICIAL BH90210 Reunion Group on Facebook!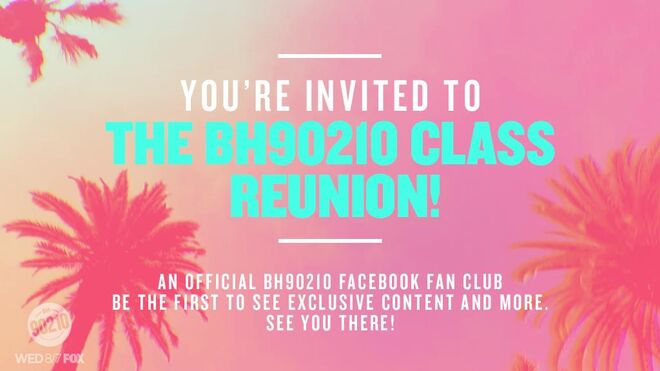 Episodes
ep #
episode
written by
airdate

1

The Reunion
Mike Chessler & Chris Alberghini
Paul Sciarrotta
AUGUST 7, 2019

Having gone their separate ways since the series "Beverly Hills, 90210" ended 19 years ago, the cast reunites at a 30th Anniversary fan convention in Las Vegas, causing old flames, feuds and feelings to reignite. At the end of the weekend, Tori suggests that they get a 90210 reboot off the ground.

2

The Pitch
AUGUST 14, 2019

When FOX greenlights a 90210 reboot, on the condition that seven of the original "Beverly Hills, 90210" cast members get on board, Tori and Jennie confront each of their former castmates and are met with more resistance than they had anticipated. Meanwhile, the gang deals with the repercussions of their actions in Las Vegas, Shannen gets a call from a friend and former "Beverly Hills, 90210" costar Christine Elise pops back into their lives.

3

The Photo Shoot
Jason Coffey & Merigan Mulhern
AUGUST 21, 2019

Tori starts to feel the pressure of balancing the cast's requirements for the reboot, while keeping the wheels in motion. Jason and Ian both struggle with their marriage issues, Jennie meets her new bodyguard, Brian hires a new assistant and Gabby asks Christine for advice. Meanwhile, the cast turns to a familiar face for help and Tori goes to extremes to get Shannen on board with the reboot.

4

The Table Read
AUGUST 28, 2019

The fan reaction from the release of the first cast photo has the gang riding high, until the table read serves up major disappointment. The cast bands together to try to rewrite the script, but can't come to an agreement on storylines. Meanwhile, Shannen questions her decision to join the reboot, Jennie lets Kyler (guest star Karis Cameron) audition for a role and Brian learns some shocking information about Zach

5

Picture's Up
SEPTEMBER 4, 2019

When the first day of filming is halted amidst the latest threat, the cast makes a list of their potential enemies and sets their eyes on a former co-star who may be holding a vendetta against them. Jason's insensitivity while directing, causes the ladies to become frustrated and Tori stresses over an upcoming sex scene with Brian. Meanwhile, both Gabby and Brian share some personal news with the cast.

6

[[

[[
SEPTEMBER 11, 2019
Photos
Videos
Media
Notes and references
↑ 1.0 1.1 '90210' Event Series With Original Cast Members Lands At Fox For Summer (February 2019)
↑ https://www.nydailynews.com/entertainment/gossip/hulu-eyeing-beverly-hills-90210-revival-ian-zeiring-article-1.2736044
↑ 90210 reboot to be filmed in North Vancouver this May (April 2019)
↑ Ziering IG. (May 2019)
↑ 8.0 8.1 Return to Walshland: Shannen Doherty Officially Joins Beverly Hills 90210 Meta Reboot (April 2019)
↑ Shannen Doherty To Return For 'BH90210' Fox Event Series, Reuniting With 'Beverly Hills' Gang (April 2019)
↑ Cateris IG (April 2019)
↑ Doherty IG. (June 2019)
↑ Potter IG. (June 2019)
↑ 'BH90210': Christine Elise Joins Fox Series Reboot (June 2019)
↑ Jason Priestley reveals two 'BH90210' Easter eggs (July 2019)
↑ 'BH90210' Casts Natalie Sharp (July 2019)
↑ [https://www.nbcnews.com/think/opinion/beverly-hills-90210-reboot-bh90210-demented-nostalgic-mockumentary-kind-works-ncna1040221 'Beverly Hills, 90210' reboot 'BH90210' is a demented, nostalgic mockumentary — that kind of works] (NBC Think, August 2019)
↑ 'BH90210' Review: Fox's Surrealist Take on a Nostalgic Fave Is Tedious (IndieWire, August 2019)
↑ 'BH90210': TV Review (THR, August 2019)
↑ BH90210 Review: Fox's Needlessly Complicated Reboot Squanders a Golden Opportunity (TVLine, August 2019)
↑ 'BH90210' brings meta and messy take to Fox revival (CNN, August 2019)
↑ The Stars of Beverly Hills, 90210 Play Themselves, Sort of, in a Melancholy Meta-Reboot (Slate, August 2019)
↑ 'BH90210' Review: Head-Spinning Reboot Wins Points for Sheer Weirdness (Rolling Stone, August 2019)
↑ The 'BH90210' Revival Is An Elaborate (But Kind-Of Enjoyable) Exercise In Self-Mockery (UpRoxx, August 2019)
↑ Preview: The Peach Pit Is Back | BH90210 (July 2019)
↑ 10 classics, just for YOU. ❤️ Stream original episodes August 1-6 on Twitter and gear up for the #BH90210 premiere!
Community content is available under
CC-BY-SA
unless otherwise noted.