Beverly Hills, 90210 is an American prime time television drama, which aired on the FOX television network from October 1990 to May 2000.
About
[
]
Beverly Hills, 90210 focuses on the assimilation of a solid, value-oriented Midwestern family into an accelerated Beverly Hills lifestyle. The show explores the realities and myths of social classes in Beverly Hills while at the same time exposing the strains this lifestyle can put on family relationships.[1]
Beverly Hills, 90210 began with the introduction of the Walsh family—parents Jim and Cindy (played by James Eckhouse and Carol Potter), and their teenage twins Brandon (Jason Priestley) and Brenda (Shannen Doherty). As a result of Jim's job reassignment, the family moved from Minnesota to Beverly Hills, California. The story initially presented Brandon as a flawed boy scout, Brenda as a good-hearted rebel, Kelly as a good-natured snob, Steve as a laid-back thrill-seeker, Andrea as a strait-laced smart girl, Dylan as a sensitive loner, David as a geeky musician, and Donna as a quirky, socially awkward girl.
Several of these characters were developed over time, revealing subsequent layers as they matured. In addition, many new characters were introduced during the course of the series' run, and several guest stars appeared in recurring roles. Throughout the show's high school and college years, stories largely centered around the love lives, academic matters, career aspirations, and parental issues of the younger cast. Among the topics covered were adoption, estrangement, safe sex, substance abuse, romantic affairs, love triangles, race-related school incidents, and budding romances between longtime friends. As the show grew in popularity, several successful musicians of the '90s contributed to Beverly Hills, 90210: The Soundtrack. Additionally, their accompanying music videos aired during the end credits of various episodes. Among these artists were Shanice, Jeremy Jordan, and Vanessa Williams & Brian McKnight. In addition, the music video for "Hold On" by Jamie Walters, who starred in the series as Ray Pruit, was also featured. The final episode of Beverly Hills, 90210 aired on May 17, 2000. The series outlived its first two spin-offs, Melrose Place and Models Inc., and would spawn additional spin-offs—90210 and a new Melrose Place—in 2008 and 2009.
Starring
[
]
Later regulars
Recurring cast
Seasons
[
]
Summer seasons
[
]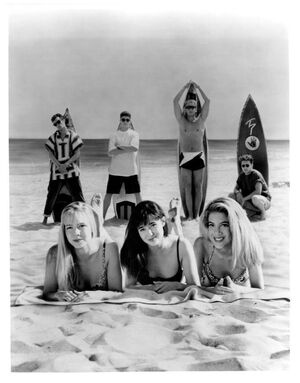 The Summer Seasons are story arcs which aired throughout the summers of 1991 and 1992 (July and August specifically) in the United States.
These story arcs presented all-new episodes which followed the teenage characters during their summer vacations from high school. In the DVD releases, they are packaged as parts of Seasons 2 and 3 respectively. The concept was highly unique, as television shows typically do not present new episodes during the period between their annual finales and premieres. In more recent times, certain shows have begun offering new interval material in other forms, including shorts on the Internet, and television movies.
Gabrielle Carteris (Andrea Zuckerman) notably is not in a bikini in the summer episodes, which was a choice Carteris made for her character. That decision was only cemented for Carteris when Aaron Spelling called her, prior to filming of the Season 3 summer episodes, and told her to lose weight.[2]
1991
1992
1993
Season 4 did not include summer episodes as the property used for the Beverly Hills Beach Club was not available
Theme
[
]
The show's now-iconic theme music was not always present in the first airings; some viewers remember an entirely different, somewhat calmer tune that was also heard during the end credits. Furthermore, this tune was accompanied by opening and ending scenes of postal deliveries (depicting the change of address for the Walsh family) that were eventually excluded from the Season 1 montage.
2003 Reunion Special
[
]
The original cast, including James Eckhouse, Carol Potter and Joe E. Tata, reunited for a 2003 special to discuss the impact which the shows success has had on their lives and careers.
BH90210
[
]
Main article: BH90210
In December 2018, executive producers of the 'mockumentary-style' reboot began shopping it around to networks. It was picked up by FOX and announced at the end of February 2019. The series will air in Summer 2019.
Spin-offs
[
]
Main article: Beverly Hills, 90210 spin-offs
Trivia
[
]
The episodes that aired unopposed during Operation Desert Storm, as the three other networks suspended all but news programming, were One Man And A Baby • Slumber Party • East Side Story • A Fling In Palm Springs • Fame Is Where You Find It. Ratings were suspended during these episodes and the first episode following the return of ratings, Stand (Up) and Deliver, showed a huge increase which kept climbing subsequently, heralding the show's arrival as a commercial success.[3]
Jason Priestley, Jennie Garth, Ian Ziering, Brian Austin Green and Tori Spelling are the only five cast members to appear in all 10 seasons of the series.

Jason Priestley, Jennie Garth, Ian Ziering, Gabrielle Carteris, Brian Austin Green and Tori Spelling are the only six cast members to appear in both the Pilot and the Series Finale.
Not one character appeared in all 293 episodes. The cast member who is closest to appearing in all 293 episodes is Tori Spelling, at 291/293. Ian Ziering and Jennie Garth are tied for second place at 290/293 episodes.
PRODUCTION
Former president of FOX, Barry Diller, came up with the title 'Beverly Hills, 90210'[4]
BEHIND THE SCENES
In a 2010 interview, Beverly Hills, 90210 writer/producer on Seasons 4–7, Larry Mollin, said of the set: "That's what the guys do. That's their free shot. Luke's a wonderful man and Jason [Priestley, Brandon] is a wonderful man. But they are young guy actors on a show, which basically means they get to feel anybody up they want. And that's just the way they are. I've got tons of outtakes of this stuff. That was just the fun of it. That's just the way it was before sexual harassment became really a watch word in the industry. Young actresses just had to put up with that sh*t. I had seen that for years and years on shows. It was the way it went. Obviously if a girl didn't like it, she could complain but most of them just put up with it and just expected it. The guys were just like that."[5]

Larry Mollin on the show post-Doherty:
All the kids hated the show by season 5, other than Tori. They all just hated it. Every day they would come in was just torture for them.[5]
The logo font is Newhouse DT SuperCondensed Bold
As 90210 was the first massive worldwide teen TV phenomenon, so in its wake followed the first inklings of what would become the cultlike behaviour of fanatics spending their time casting aspersions on fictional characters. The so-called I Hate Brenda Newsletter and a 'song' entitled Hating Brenda was published and MTV even deigned to interview people about why they hated the character of Brenda, as well as having the MTV host make derogatory comments about Doherty's musical aspirations in a segment.[6]
Photos
[
]
Videos
[
]
Media
[
]
Scenes From the Cast Struggle in Beverly Hills 90210 (ROLLING STONE • FEBRUARY 1992)
DRESSED TO THRILL (CHICAGO TRIBUNE • JULY 1991)
From the Archives: The Times' original review of 'Beverly Hills, 90210': Cliches and stereotypes galore (LA TIMES • OCTOBER 1990)
RECENT

Quiz: Are You More Brenda Or Kelly From "Beverly Hills, 90210"? (BUZZFEED • MAY 2018)
Hey, Wanna Take This BuzzFeed Quiz From 1992? (BUZZFEED • MARCH 2017)
Notes and references
[
]