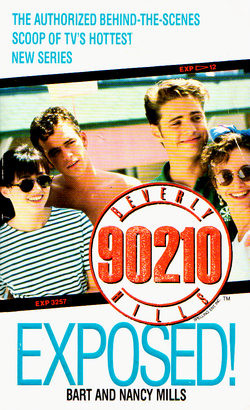 Beverly Hills, 90210: Exposed! — official companion book to Beverly Hills, 90210 written by Bart Mills & Nancy Mills. It was published in december 1991 by HarperPaperbacks in USA and Canada.
Sometimes consider as Book #2 in Beverly Hills, 90210 novel series.
ISBN: 0-06-106-137-9
Binding: soft cover
Printed: USA
Pages: 186
Photos: 16 pages
Description
[
]
BRANDON, BRENDA, AND DYLAN... — Hip, hot, totally together — and completely unveiled in this inside look it what really happens when the cameras roll on the set of Fox Television's hit series BEVERLY HIILS, 90210.
BRANDON WALSH — What is about him that makes girles everywhere melt?
DYLAN McKAY — A true bad boy, the new rebel of the '90s?
BRENDA WALSH — How does she keep her cool in her steamy relationship with Dylan?
With sixteen pages of candid photos, EXPOSED! zooms in on the captivating, fast-paced world of life on location with the cast of BEVERLY HIILS, 90210.
Contents
[
]
A Word Of Mouth Hit
This Is The Way The Вay Starts
Heavy Thoughts And History — But This Won't Be On The Set
Jason Priestley
Shannen Doherty
Luke Perry
Jennie Garth
Ian Ziering
Gabrielle Carteris
Brian Austin Green
Tori Spelling
«So Far The Walsh Way Of Raising Kids Has Worked Pretty Well»
Back To School
International Titles
[
]
Bez Masky (Czech)
Opname! (Netherlands)
Das große Beverly Hills 90210 (German)
Photo Section
[
]
Cover photo by Andrew Semel. Back cover photos by Timothy White. Insert photos by Andrew Semel and Timothy White.