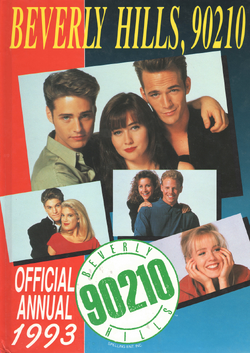 Beverly Hills, 90210: Official Annual 1993 — companion book published by «World International Publishing» & «Egmont» in 1992 in Great Britain. It was written by Lucy Etherington and edited by Dick Wallis.
ISBN: 0-7498-0923-X
Edition: hardcover
Number of pages: 62
Hello — From Sunny Southern California
Welcome To Beverly Hills, 90210!
Jason Priestely — Factfile
Story Synopsis Of: Beverly Hills, 90210 — Series Pilot
Shannen Doherty — Factfile
It's About Growing Up
James Eckhouse And Carol Potter — Factfile
Everything You've Eve Needed To Know
Jennie Garth — Factfile
In Vogue In 90210
Brian Austin Green — Factfile
Gabrielle Carteris — Factfile
The Real Beverly Hills
Luke Perry — Factfile
It's About Having Fun
90210 Lingo
Ian Ziering — Factfile
All That Glisters
Crossword
Wordsearch
Tori Spelling — Factfile
Beverly Hills, 90210 Quiz
Answer Page
Community content is available under
CC-BY-SA
unless otherwise noted.