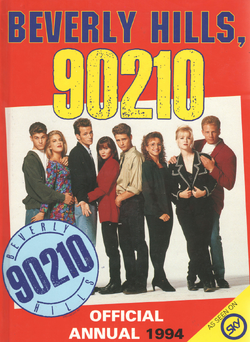 Beverly Hills, 90210: Official Annual 1994 — companion book published by «World International Publishing» & «Egmont» in 1993 in Great Britain. It was written by Melanie Clayden and edited by Dick Wallis.
ISBN: 0-7498-1370-9
Edition: hardcover
Number of pages: 62
The Coolest Place In The U.S.
Making Home In The Hills
Jason Priestley
After Hours
Speaking Out
Shannen Doherty
Schools Out
Brian Austin Green
The Other Side Of The Camera
Beverly Hilss, 90210 — The Script
The Beverly Hills Challenge
Brotherly Love
Luke Perry
Looking Beverly Hills Hot!
Jennie Garth
Downtown Beverly Hills
Ian Ziering
Tori Spelling
Heart To Heart
Gabrielle Carteris
90210 Mania
Happy Families
High Aspirations
Getting Serious
Playing Favourites
Coping With Success
Challenge Answers
Community content is available under
CC-BY-SA
unless otherwise noted.