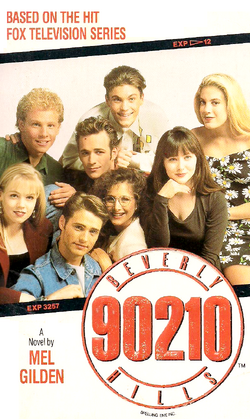 Beverly Hills, 90210 — first novel in Beverly Hills 90210 book series written by Mel Gilden. It was published in november 1991 by HarperPaperbacks.
ISBN — 0-06-100-417-0
Printed in USA
200 pages
Description
[
]
MAKE ONE FALSE MOVE AND YOU'RE HISTORY
BRANDON WALSH — Intelligent, sensitive, hot. Will his boy-next-door charm matter at a school where it's not a question of who you are, but what you drive?
BRENDA WALSH — Gorgeous, funny, naive. Can she hold her own against the privileged, experienced daughters of Beverly Hills' rich and famous?
West Beverly Hills High is a school unlike any other, where everyone lives in the fast lane. When the Walsh family move from laid-back Minneapolis, the twins desperately need a crash course in cool to survive in the status conscious halls of WBH...
Contents
[
]
Includes introduction Not Exactly Minnesota. List of chapters:
Fun In The Sun And Education, Too!
Party Down, Dudes!
If You Remember The Party, You Weren't There
When You're Hot, You're Hot
Wild Things
When You're Not, You're Not
A Lof Of Talk
Transformations
Surf's Up!
Hip Hopping
The Beash Is So Cool
The Green Room
The Domino Theory
Get A Job
Raw Deals
Public Enemies
Hungers
It's A Duck
The Late Shift
Too Many Assumptions
True Romance
Tests Of Manhood
The Personal Touch
A Time For Ice Cream
Dedication
[
]
For Dian Curtis Regan: Recently proclaimed Prom Queen for life.
Episodes
[
]
Novel is based on season 1 episodes teleplay:
Photo Section
[
]
Cover photo courtesey of Fox Broadcasting Co. Back cover photo by E. J. Camp.