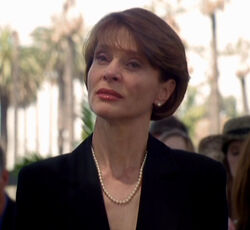 Blythe Hunter, played by Leigh Taylor-Young, was a recurring character on Beverly Hills, 90210, the first series of the Beverly Hills, 90210 continuity. She appeared in season 9.
Blythe was the mother of Noah Hunter. She was blamed by Josh Hunter for breaking up his family when she had an affair with his father, Daniel Hunter, which caused him to leave Josh's mother.
Blythe first appeared when Noah and his girlfriend, Donna Martin, went home to have dinner with Blythe and Daniel. Blythe was mostly a peacekeeper between Noah and Daniel's estranged relationship. Daniel later committed suicide.
When Brandon Walsh was asked to write Daniel's obituary, Blythe provided him with information that Daniel had wanted to be an artist before he made money in oil.
Blythe was later seen giving a speech at Daniel's funeral.