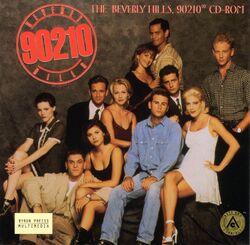 The Beverly Hills, 90210 CD-ROM — official software companion to the show, released in USA by Byron Preiss Multimedia in 1995. It was distributed By WEA Visual Entertainment. 
Over 60 video clips from the series.
Multimedia trivia bank featuring bios and cast images.
Episode guide with links to the videos.
60 screensavers.
Sound Bytes for Windows.
Trouble With Authority section.
Multimedia timeline.
Collection of fax forms, memos, stationery, cards with 50 scenes from the show to print.
Interactive map of Beverly Hills including Walsh House, Peach Pit and West Beverly Hills High School.
Clip-a-day calendar.
Multiple choice trivia quiz — 100 questions.
PC with 486SX/25MHz or higher processor
4 MB RAM (8 MB RAM recommended)
9 MB free hard disk space
SVGA graphics (256 colors with 640x480 resolution)
Double-speed CD-ROM drive or faster
MPC-compatible sound card
Mouse or compatible pointing device
Windows 3.1 or later and MS-DOS 3.0 or later
Community content is available under
CC-BY-SA
unless otherwise noted.