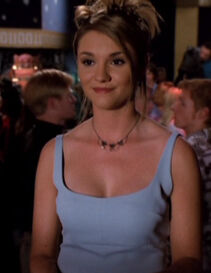 Claudia was a recurring character played by Christina Fredlund on Beverly Hills, 90210, the first series of the Beverly Hills, 90210 continuity. She appeared in season 9.
Claudia was a janitor at the Peach Pit After Dark, where she worked three days a week. She was from Venezuela. She first appeared when David Silver challenged anyone on his radio show to prove to him that there's someone out there for him when he didn't believe it himself.
Claudia was the mysterious caller who made light of David's challenge, which was ultimately what made him like her more than anyone else. David and Claudia began to date and things were progressing nicely until Claudia broke the news that her visa was expired and she had to return to Venezuela.
After David tried to find her a couple of jobs, David agreed to marry Claudia in order for her to stay in the country. However, after Matt Durning explained the risks of a phony marriage and Dylan McKay had a talk with her, Claudia opted to leave the country and not marry David.