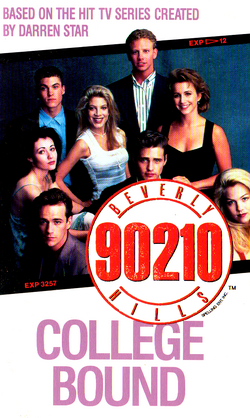 College Bound — twelfth and final novel in Beverly Hills 90210 book series written by Mel Gilden. It was published in august 1994 by HarperPaperbacks.
ISBN — 0-06-106-216-2
Printed in USA
186 pages
Description
[
]
FINAL COUNTDOWN — The fall semester is right around the corner, so when Steve Sanders gets the use of a Malibu beach house for the last few weeks of the summer, it promises to be the best of parties for the gang of 90210!
Brandon isn't sure how he feels about Brenda going away for school, but when an attractive stanger strolls into his life, his sister's departure takes a backseat to love.
Steve is thrilled when he is accepted at California University, but when his girlfriend Celeste gets a bit possessive, he has to decide if he can be a one-woman man.
Andrea believes the putting off Yale is the right choice until she senses disappointment from the one person she admires most — Gil Meyers.
David is desperate for a place to live. So when Kelly returns from Europe with a crazy idea, there's nothing left to do but say yes.
Brenda knows she has to make a break and move on with her life, but when the gang throws her a going-away party, the doubts about her decision start creeping on.
Kelly arrives in time for the party, but all isn't as picture perfect with Dylan as she says. Are they really through?
Dylan is still wandering through Europe, healing his wounds and trying to deal with his future. Can he face the rejection from Berkley on his own?
Donna agrees to move in with kelly and David at the beach. But when it comes to telling her parents, she mahages to reshape the truth just a bit.
For the first time, the Walsh twins and their friends are on their own and with the future wide open ahead of them, life will never be the same.
Contents
[
]
Includes introduction A Lot To Think About and excerpt from Graduation Day. List of chapters:
A Beach House in 'BU
Bye Bye, Brenda
Second Thoughts
The Housekeeping Elves
Homesick
Life Is Just A Bowl Of Bagels
Keeping Score
Rain
Red Tassel Diplomacy
Nerves
Sleeping With The Enemy
Home
Registration
Placement
Total Meltdown
California Dreaming
Auditions
The Dumbest Fish
Episodes
[
]
Novel is based on season 4 episodes teleplay:
International Titles
[
]
Universitetet Kalder (Danmark, Carlsen, 1994)
Start W Neiznane (Poland)
Photo Section
[
]
Cover and insert photos by Andrew Semel and Timothy White.