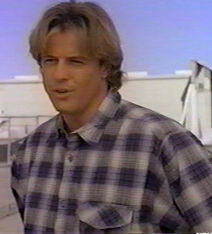 Craig Bodi, played by Don Michael Paul, is a recurring character seen on Models Inc., the third series of the Beverly Hills, 90210 continuity.
Craig was an easy-going, light-hearted novelist who befriended Julie Dante on the beach, and the two eventually began dating. Though his profession of writing was initially concealed, Julie eventually discovered it when she realized that he used a pen name on several of his books.
Craig's pleasant, fun-loving personality eventually won Julie's heart, and he was equally smitten by her vivaciousness. As such, the pair's relationship began on playful terms, but grew into a deeply loving connection as it progressed.
In the series epilogue, Craig proposed to Julie, and she accepted.