'90210' Profile: Donna Martin
Play Sound
‶
You know what, you guys? That is not good enough. If there's one day out of the whole year to stop thinking about ourselves, then this is it

—Donna's Christmas spirit
Donna Martin is a principal character on Beverly Hills, 90210. She is portrayed by Tori Spelling.
Character
[
]
Donna is an easy-going, good-spirited character with a rational, occasionally bold personality. She is introduced as a student of West Beverly High and was born to John and Felice Martin. Throughout high school, she forged bonds with seven friends who she would know well into her adult life, including her eventual love interest David Silver. Of the girls Donna knew during high school, she was closest to Kelly Taylor and Brenda Walsh. It was during this period that Donna declared her intentions to remain a virgin for the foreseeable future.
This decision would occasionally draw her and David apart from one another in the times to come. Donna struggled in High School though she tried to keep it a secret. She hid her insecurities by focusing on looking fashionable and being popular. At some point, she began to rebel by smoking cigarettes, skipping class, and hanging out with the wrong crowd, and it wasn't until she was confronted by Brenda that she was able to face that she had an issue, realizing that she wasn't stupid, but that she had a learning disability. Additionally, Donna found support from Brenda when she caught her mother cheating on her father.
West Beverly
[
]
During her freshman year, Donna spends her time with Kelly, who is building her status as one of the most popular girls at West Beverly. When Brenda meets Kelly and Donna in their sophomore year, Donna and Kelly always hang out together and often go shopping. Donna also throws a party at her parents' house when they're out of town and generally seems comfortable with her and Kelly's status and lifestyle.[2] Donna at first comes across as superficial but is later revealed to harbor an inferiority complex, as she feels her friends assume that she's stupid – which both Brenda and Kelly tell her they don't think at all.
These feelings are compounded when Donna receives a poor result on her SATs, but after talking to Mrs. Teasley, Donna learns that she has a learning disability and is therefore eligible to retake the test.[3]
During the summer, Donna decides to take drama class to get more credits with Andrea, Brenda, and David in summer school. David and Donna are reluctantly paired for a Romeo and Juliet scene as a class project. At the Beverly Hills Beach Club, Donna and Brenda decide to get tan before going to a party. Brenda then gets sun urn and tells Dylan that Donna is lucky that she did not get sun urn like her and that she get ready for "party" night at the beach club.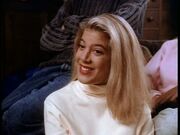 Brandon, Brenda, Dylan, Kelly, Steve, Donna, Andrea and David take an end-of-the-summer camping trip to Yosemite National Park. Donna brings a lot of makeup and girl stuff causing Steve to get angry and they begin to argue, but Brandon quashes that disagreement saying they need to get moving. The group, however, failed to heed civil defense reports that a nasty thunderstorm was making its way through California, which resulted in lightning and heavy rains. As a result, the gang is thwarted shortly into their trip as the highway patrol closes the route the Yosemite, and the kids are stuck at a remote campground where the only lodging available is a ramshackle cabin. Steve tries to liven up the party by going into town and bribing adults to buy alcohol for him, but this plan backfires and an angry Steve returns, causing the group to get into a debate how teenagers are treated as second-class citizens. Donna avoids that debate, thinking maybe it is better that there is an age cap on alcohol. Later, when the kids are invited into a nice cabin by a couple that is just married, they are enjoying themselves until the couple has their first fight. Kelly, Brenda, and Donna try to smooth things over with the bride, and in doing so learn some of the facts of life.
During class, Steve and Donna decide to play the stock market. But Kelly disapproves and expresses Donna's waste of money. Donna is stubborn and refusse to listen to what Kelly said to her. Donna expresses that she is not stupid. The gang attends a Halloween costume party at an old brownstone mansion with Donna dressed as a mermaid which limits her mobility. Donna could not walk and some of the guests at the party got a laugh. Donna and Brenda enter a room where Kelly almost gets raped by a stranger from the party she met earlier. Donna and Brenda enter who then eventually calls in Dylan to save kelly.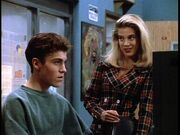 On Scott's 16th birthday, Scott's mother gives Donna and David the responsibility of rounding up people for his birthday party to save it from being a social disaster. When the gang is ready to leave Scott's party to go to the Peach Pit, Donna assk David to go with her but David decides he wants to stay with Scott. Later, Scott finds a gun in his father's office and while showing it off to David, he accidentally shoots himself. David is then filled with conflicting emotions for days after and ends up telling Donna, he is tired of people asking him if he is alright knowing they weren't his true friends. Emily leads the gang to an underground nightclub where the drugs are involved. Kelly and Donna worry about David who gets drunk at the rave. David gets worse wild hyper and dance with Donna then she feels tired of it then Kelly and Donna leave the nightclub and are caught by Kelly's mother Jackie.
After Gang saw Donna and David outside talking about winter dance, they decide pick on Donna for going out with David Silver but Donna say they are just friend that all then Donna finally agrees to go to the annual winter dance with David, where they kiss for the first time. Donna decides that she doesn't care about being teased for dating a sophomore.
On Christmas Eve, Donna, Samantha, Kelly, Jackie, Andrea, David, Mel, Dylan, and Steve all show up at the Walsh house for dinner and caroling. The old man in the Santa suit gives everyone presents and describes his lonely life: his children are grown and his wife died a year earlier. He thanks Brenda for her kindness and generosity, then mysteriously disappears as footsteps are heard on the roof. Gang says Happy Birthday song to Donna and we learn that Donna was born on Christmas. David leads Brenda, Kelly and Donna to the Bel Aire Hotel on a mission to meet the rock group 'Color Me Badd' when they come to town. But only Kelly gets to see the band, while David and Brenda get stuck in the hotel stairwell, and Donna sees more than she wants when she finds her mother, Felice, at the hotel with a man other than her father cause Donna to be angry and tell her mother Felice to tell her father the truth.
Donna and Kelly plan to travel to Paris during the summer before their senior year and Donna's freaks out when Kelly decides to stay home to be around Erin, as Donna doesn't want to go by herself. Brenda's parents offer to pay for her to go in Kelly's stead, and Brenda accepts. Although Donna complains a lot in the beginning, as she is timid about a new culture, she confesses to Brenda that she is really relieved and happy that Brenda came with her instead of Kelly. The two girls shared experiences in Paris bring them much closer.
Upon her return to high school, Donna's ability to draw is noticed in an art class, and a teacher suggests that she take additional courses in art after graduating. This would eventually lead to her successful future as a fashion designer. Towards the end of her senior year in high school, Donna became drunk on prom night and is subsequently ruled unable to graduate on time due to a new penalty in effect. However, several students, led by Brandon Walsh, showed their support for Donna by conducting a walkout and addressing a panel of administrators. The decision was ultimately overturned on that day, and Donna was allowed to graduate with the others.
California University
[
]
After working for the summer at the Beverly Hills Beach Club, David and Donna seek out affordable housing on the beach. Donna is afraid to tell her mother about David living with her and Kelly at their new beach front house. David and Donna audition to be DJ's on campus radio and get a 2 AM gig. During Rush Week, the girls attempt to pledge the Alpha Omega sorority and the result exhausts Donna, who tries to boost ratings for her and David's radio show.
During the first week of classes as California University, Donna becomes burned out of her work which is interfering with her college courses and decides to resign from the late-night radio shift, leaving David solo. Due to his late night schedule, David causes problems with Kelly and Donna over his lack of housekeeping. David and Kelly grow more hostile to each other when they are caught in the middle of Mel and Jackie's custody battle for Erin, and Donna continues to try to resolve the continuing feud between David and Kelly. Strange dreams have Donna contemplating sleeping with David on their second anniversary together until her parents show up for a surprise visit.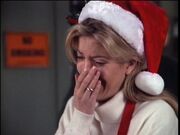 During Christmas time, frustrated that Donna won't give up her virginity, David starts to act coldly towards her and breaks up with her, on her birthday. Donna is in denial and tries to rekindle things with David during mid-terms, who starts taking crystal methamphetamine to keep up with his busy schedule, while Donna wonders what's wrong with his sudden change in behavior. Donna temporarily forgets about David when she flirts with an attractive ski instructor, named Chad, during a ski trip with the rest of the gang, but Donna tells Chad that she still in love with David. David's drug problem continues, causing Kelly and Donna to move out and in with Dylan for a while.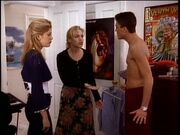 Donna tries to make up with David, whose increased drug use turns her away. After his arrest, they settle on friendlier terms and Donna decides to move back into the beach house. Brenda and Donna attend an animal rights rally, and are crestfallen when the university refuses to suspend animal testing. After Rocky dies of cancer, Andrea gives Donna a healthy puppy (Rocky II) to take her mind off Rocky's death. She also supports Brenda after her arrest for participating in a break-in at Andrea's lab.
When the rest of the gang takes off on a ski weekend, Donna asks Brenda to go with her, but Brenda decides to stay behind. Brenda discovers an old diary that belonged to a young woman who once lived in the Walsh house in the late 1960s. Brenda imagines herself as the girl Wendy and Donna as Maryanne Bagley. After Donna finds David flirting with his blind piano teacher Holly, Donna goes on a date with D'Shawn to make David jealous. At the CU Mardi Gras, David impresses pop star Kenneth "Babyface" Edmunds, and his recording manager Ariel with his keyboard music. Donna catches David cheating on her and breaks up with him.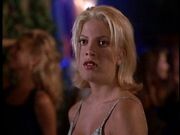 Donna returns from her summer stay in Texas and claims that she's over David, who's doing a video for his film class about his travels during the summer. But that evening, Donna has an emotional breakdown when she runs into David at a nightclub. Donna announces to the gang that she has decided to move to Houston to be a debutante. But Kelly eventually learns that Donna still emotionally fragile since her breakup with David and she's hiding behind her mother just to avoid running into him. Later, at a banquet for Donna's, Dylan crashes the party and creates an ugly scene after being inadvertently tipped off by Nat about Brandon and Kelly. When Donna's mother criticizes her behavior by accepting a dance with D'Shawn, she decides to stand up to Felice and stay in Beverly Hills.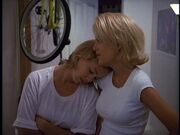 Donna asks Clare (now attending C.U. as a sophomore) to move into the beachfront apartment to help pay the rent. But Clare brings a bad snoring habit with her cause wake Donna and Kelly up all night. Donna finds a new man for herself, a KEG member named Griffin Stone, whom her mother sets her up with. Donna meets a musician and carpenter named Ray Pruit at the CU campus. Valerie helps Steve, Kelly, and fellow KEG members Griffin and Muntz, plan the theft of a rival college's mascot, a huge stuffed bear, during homecoming weekend. Donna skips the caper to spend some time with Ray at his family's pumpkin stand. While Donna has trouble balancing the affections of both Griffin and Ray, she sees Griffin's sleazy another side when he whisks her away for an overnight trip to Catalina Island and attempts to seduce her.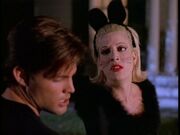 On Halloween night, Donna becomes scared when her two suitors, Ray and Griffin, finally cross paths during a costume party at the KEG house. Donna finally dumped Griffin Stone when he calls her a "slut", resulting from her in slapping him. Donna learn thsat Ray's birthday is coming soon so Donna plans a party for Ray's 25th birthday but everyone does not come to his party which causes Donna to become upset and Ray told her he didn't care about them but her. Ray and Donna worked as vendors to see the show free of charge. At a House party, Griffin uses too much electricity, and the house catches on fire. Donna ran getto out thf house and tell Ray to rescues Steve and Valerie, who were fooling around in one of the bedrooms. Kelly and a girl named Allison are trapped in a downstairs bathroom with no means of escape. The firefighters try to reach them as they are engulfed by flames. Ray's perpetual bad mood confuses Donna. He explains that his mother always begins drinking around the holidays, as his drunkard father left her on Christmas... after pushing her down the stairs and causing her to have a miscarriage.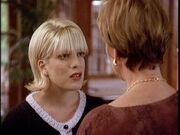 Donna's snobbish mother, Felice, puts Ray's feelings for her daughter to the test by offering him money to stop seeing her, while Ray's alcoholic, chain-smoking, redneck mother, LuAnn, goes Christmas shopping with Donna. Ray declines a request by Donna to perform at the opening of the Peach Pit After Dark nightclub causing Donna to become upset and confused. Donna tries to help Ray get over his stage fright on the eve of his debut at the grand opening of the Peach Pit After Dark. David's old flame Ariel Hunter, now a music company rep, returns and woos Ray to get him to sign a music deal, much to Donna's worry. Valerie comes onto Ray who's having problems with Donna and pressures him into an affair. Ray's mother, LuAnn, figures out that Ray cheated on Donna when he doesn't come home after that night, and covers for him when Donna comes calling asking of Ray's whereabouts. Donna wrongly blames David for Ray's departure after Valerie lies to her that David is the one responsible for Ray leaving town.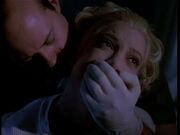 An unseen psycho, who may be the creepy grad student Lenny Zeminski, creates a crime wave on the CU campus which includes the rape of a girl student which worries everyone. Lenny becomes an outcast when he is suspected of the campus rape despite his protest of innocence which prompts him to ask Brandon to help him prove his innocence. At the same time, the real rapist name Garrett Slan stalks an unsuspecting Donna and holds her hostage in the beach apartment. David comes to the beach apartment to apologize to Donna and saves her. Brandon, Kelly, Donna and Steve appear in Clare and David's cinema verity project which ends up revealing truths from their pasts to each other and Clare catches Donna and David kiss on video. During spring break, Donna visits Ray, who is living in Portland, Oregon. David tags along to visit his mother only to learn that she has disappeared. So David, along with Donna and his father, Mel, follow sa strange trail to find her, while Ray begins to show increasingly signs of jealousy over Donna helping David.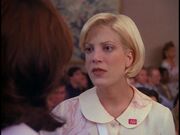 Ray returns to Beverly Hills and to a bravo return appearance at the After Dark. But Ray's mother, LuAnn, in an intoxicated state, ends up tipping off David and Clare about his unfaithfulness to Donna with Valerie. After David and Clare confront Ray, and then Valerie, they decide not to tell Donna to avoid hurting her feelings. The gang goes to Palm Springs for the national KEG/ALPHA fraternity/sorority convention, Donna brings Ray along to make up with him, but later regrets it when he injures her during a fight because she's got a speech to work on, while he manages to stay on the good side of her mother. In Palm Springs, Donna decides to give the possessive Ray a second chance, and rudely blows off Valerie in which Donna reveals that she's figured out that Valerie seduced Ray.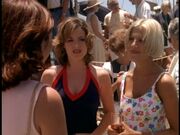 Donna hosts a party on her parents yacht,while trying to hide her doubts about her future relationship with Ray. Ray becomes the prime suspect in the theft of money and several jewelry items from Donna's parents and others. But Valerie exposes Ginger as the culprit which at the end is revealed to be a scam for the gang to get to like Valerie again. Brandon and Susan cover the Tournament of Roses Royal Court tryouts in which Kelly, Donna, and Clare are candidates. Nat and his chief, Willie, try to catch an exclusive mouse at the Peach Pit that's hurting their business,until Donna comes to their rescue.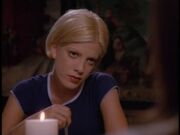 Kelly, Donna, and Clare decide to take a "just girls" road in which Valerie spoils their fun by insisting that she come along. Soon, the trip becomes unpleasant when secrets from their pasts come into the light with Valerie admitting that she has feelings for David and that she seduced Ray months earlier for no reason aside from the ultimate thrill of it. Donna becomes angry at Valerie, and then at Clare who admits she knew but did not say anything. In a turn of events, the four of them end up stranded for the night in a convent after their car breaks down. Valerie also convinces Donna to break up with Ray knowing that he is physically abusive. Donna finally broke up with Ray. Donna continues her quest to become Rose Queen. After Ray decorates the beachfront apartment with pumpkins in an attempt to spruce up his sagging relationship with Donna, he has a violent reaction to her new romantic interest, a college football player named Joe Bradley.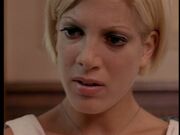 While Donna continues to try out for Rose Queen, meeting a new friend named Lisa Dixon during the competition. She finds a picture of her mother taken during a 1969 Rose competition, while at the same time, Ray's therapist warns Donna that he has a history of being abused as a child by his father and he may harm her. On the eve of Dylan and Toni's wedding, Marchette sends his thugs to kill Dylan to prevent it from happening. But gets thwarted by the gang's plans for the happy couple. Kelly and Donna throw a bachelorette party for Toni at the beach apartment with male strippers and Ray threatens Donna after she breaks up with him to attend the wedding with Joe Bradley... just as Ray's therapist had warned her. Donna's mother, Felice, confesses a past indiscretion to her about her involvement in the Rose Bowl tryouts of 1969, causing Donna to question her own innocence. Donna invites NFL quarterback Steve Young over at Casa Walsh for Thanksgiving, one of two surprises she plans for Joe's birthday on that same day. But Donna later learns that she and Joe have a thing in common: they both disapprove of premarital sex. Joe's assault and battery trial begins where Donna is caught in a lie on the witness stand.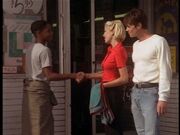 Donna covers for the new Rose Queen, Lisa Dixon, at her convenience-store job in South-Central L.A. and feels sympathy for a ghetto boy she catches shoplifting. Donna forces Joe to drive her over to the boy's house and learns that the boy, Isaiah, and his two siblings are not supervised at home. Joe plans the perfect gift for Donna on her 21st birthday that same day; a talking parrot. David and Joe skip out on the After Dark party to help Donna peruse her escaped parrot. Joe makes a professional call on Donna's cardiologist father who discovers that Joe may have a certain heart disorder. Joe's heart condition becomes an issue between Brandon and Susan after they question Donna's father about it, while Donna questions the second opinion Joe received from another doctor. Donna and Clare find Kelly's stash of cocaine in their beach font apartment, prompting her to move out to Colin's for a inncreased drug binge.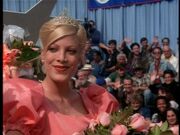 Donna investigates a new cardiac procedure that could help Joe. Kelly gets admitted into a rehab center and meets her mysterious new roommate Tara Marks and she gets out of rehab and moves in with Kelly, Donna and Clare at the beach ront apartment. During Spring Break, Brandon and Susan, Steve and Clare, Joe and Donna take a camping trip where three female campers from Canada distract the guys from their girls. Donna works on a music video with David which lands her in front of the camera as the star, making Joe jealous. Donna and David's music video of her and Powerman 5000 is a hit with everyone but Joe. Tara flips out when she discovers that Kelly had called her parents and found that she ran away from them years ago. Tara then kidnaps Kelly and plans to murder her to end their "pain," via a murder/suicide, until Kelly managed to overpower and subdue her. David and Donna's fame as video producers spreads in which their video producer Erik, wants them to make another music video. Also, Joe finally returns to football practice.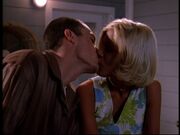 Ray Pruit returns to Beverly Hills as Donna and David's first video-production assignment for MZA. Joe decides to quit football and choose a new course for his life by moving back to his hometown in Pennsylvania and wants Donna to come with him, but she declines. David and Donna grow more intimate while their producer Erik, makes a move on Donna and other women as well. Andrea Zuckerman arrives in town to have fun at Steve's party, and Nat brings Joan along who keeps feeling unwell. David and Donna decide to get back together.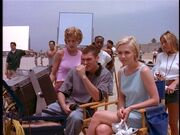 David and Donna worked together on another music video project and found that their renewed relationship may have been on a short fuse. Donna met an old high school crush, Casey Watkins, at the Beverly Hills Beach Club reunion, which caused David to become jealous. Mel withdrew David's financial support after learning from Donna that he dropped out of college to concentrate on his film making career. Donna became chairperson of the rush committee for the ALPHA sorority and lobbied to get a female jock, Danielle St. John, accepted. However, Dani was treated badly by Ellen Fogerty and pledged to a friendlier sorority, at which point Donna quit due to Ellen's attitude.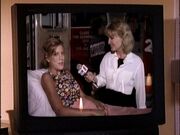 David and Mark Reese threw a big party at their Hollywood Hills house, until a huge brush fire stopped the party, which puts Donna in jeopardy when she attempts to save a baby deer. However, she was saved by a fireman, Cliff Yeager. Later, Cliff assisted her at her sorority's Halloween Haunted House bash. Cliff took Donna on a camping trip where he told her of his future plans, which didn't include her. Mel, worried by David's ne found wealth, asked Donna to keep an eye on him. David went on a wild spending spree, and later showed up at Donna's apartment in the middle of the night after swimming in the ocean.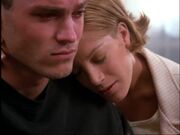 The increasingly manic David took Valerie, Steve and Clare for a wild weekend to Las Vegas, where his increased drinking and gambling threatened to turn the events bad. Ray Pruit was performing at their hotel. David ended up picking up two prostitutes and took them to a seedy motel where they drugged and robbed him. David was forced to call Donna for help and she arrived in Vegas to comfort him. She yelled at Steve, Clare, and Valerie for letting David get out of control. During an argument with Donna in the student union, David threw a tantrum and cut his hand on a glass. He was forced to see a psychiatrist after displaying hostile behavior toward the ER staff. Mel agreed with the doctor's recommendation that David be held 72 hours for observation. David was diagnosed with a mild form of manic depression. David thanked Donna for her support and they decided to get back together.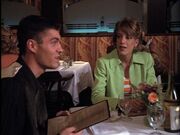 Donna clashed with her uptight mother, Felice, over wanting to renew her relationship with David as part of her effort for his mental recovery. David tried to get on the good side of Donna's conservative and domineering mother, Felice. Donna's father, John asked her to come his work and Donna proves to be a lifesaver when she fills in as the receptionist at her father's office for the day.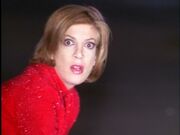 Clare, and later Donna, tried to arrange a blind date for Kelly, which turned less than satisfying when the guy, an Englishman named Neil Phillips, annoyed her. Donna began a new career for herself as the weather girl on the campus TV, which unfortunately netted her an unwanted fan. Donna initially thought that her stalker was Garrett Slan, the man who tried to rape her two years ago. Kelly and Clare decided to cheer Donna up by taking her out on the town to a male strip club, where the unseen stalker turned up the heat by attempting to run Donna over with his car. Donna was denied a permanent restraining order against Slan, while David became overprotective of her.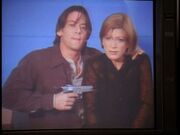 Donna's stalker, who is finally revealed to be a disturbed TV station worker named Evan Potter, takes her, Brandon, Tracy Gaylian, and a group of other people hostage in the campus TV station. Brandon tried to calm down everyone's heightened tensions as Donna sat in front of the running cameras with a gun to her head. Donna finally got the gun from Evan by tricking him with a kiss and then Evan was arrested. On Valentine's Day, Donna was depressed and in bed all week because of her depression over the hostage situation and Cliff Yeager showed up and caused concern for her and David. Donna couldn't decide whether to be with Cliff or David, while Chloe Davis made a move on David after she told him that Donna is not the woman for him.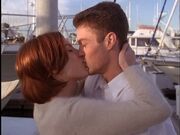 Donna wavered between David and Cliff. David and Donna visited her paternal grandmother, Celia Martin, who told them the story of her husband, the only one true love of her life during the 1940s. David was present with Donna at the hospital after her father suffered a stroke. Donna blamed David for causing her father's stroke, but David denied it. Donna and her uptight mother, Felice, argued about what was best for Dr. Martin pending his release from the hospital and David tried to cool down the conflict.
Donna persuaded Felice to accompany her to the KEG/ALPHA spring campus talent show, where she got increasingly worried when a former boyfriend of Felice's (from the 'Color Me Badd' episode) showed up to accompany her. David took Donna on a one-night trip to New Orleans in an attempt to sleep with her, which also delayed Donna's presentation of her business project the very next day to her stern teacher, Professor Langely.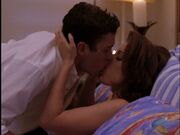 Donna became stressed out with balancing time with David and studying for her final exams, and had another run-in with her cold-hearted business professor, Langley, who openly disapproves of Donna dating David because he sees David as a distraction to Donna's future. Donna flaked out on her last final exam with Professor Langely. Donna decided it was time to move up to a new level of romance with David after getting advice from her grandmother. On the night of graduation, Donna lost her virginity to David.
Adulthood
[
]
Donna asks David to move back in with her at the beachfront apartment, but with a stipulation that they sleep in separate rooms and that she doesn't tell her parents. Donna lands a job as a modeling assistant and flies to Hawaii for the photoshoot and the rest of the gang, whom include David, Brandon, Valerie, and Steve follow her there for an end-of-the summer vacation, where Valerie meets and becomes smitten with a mysterious sailor, named Noah Hunter who tries to help Donna when the shoot goes bad. When Kelly is shot at LAX airport, Donna rushes there to help her stay alive. Donna lands another job at a prestigious fashion company and after much hesitation, finally tells her mother of her living arrangements with David. Meanwhile, Donna overhears the lead singer, Devin Taggart, of Cain Was Abel, making racist remarks as David tries to land them a recording contract. She becomes increasingly frustrated when David continues to work with them.
Donna has an on-the-job crisis when she loses her new boss. Valerie (for some suspicious reason) offers to help Donna with her job to land more clients. Donna's newest designs impress a manufacturer, whose workers she discovers toil in depressing conditions. While investigating Donna's story about working conditions at a sweatshop, Brandon discovers that Steve's father, Rush, is involved which brings up tension between Brandon and Steve over publishing the story. Valerie turns on her deviousness again when she begins stealing Donna's design clients for her own use and in the process lands in a quandary over being with Donna's new client, Cooper Hargrove.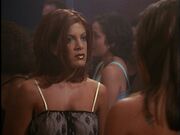 Donna finally learns of Valerie's back-stabbing by stealing all of her clients. So, Donna successfully gets revenge against Valerie when she sets up Cooper and Valerie on a dinner date to a fancy new restaurant where Noah also shows up after Donna anonymously sends him a message to meet Valerie there. Donna is hired by an eccentric widow who wants to organize a seance to contact her long-dead husband. David's continuing financial troubles with the After Dark begin to take a toll on him and an unknowing Donna when the club is foreclosed for late-rent payments, and David continues to hide his problems from Donna. Donna finally learns about David's financial problems after she discovers that David has forged her signature on her checks to pay for the building's rent. After throwing David out of her beach front apartment, Donna meets with Noah who takes her on a sailing cruise, and who rescues a bankrupt David from his loan shark who wants a huge payback, with interest, for the loan.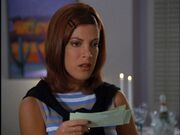 David's jealousy and pride brings out the worst in him and he rejects help from Donna after a fire breaks out at the After Dark. Valerie schemes with David to make Noah and Donna jealous by making it seem that they are having an affair, but it doesn't work due to David's lack of lying skills. Donna reacts to Noah's lack of Christmas spirit due to his past history. Carly and Zack temporarily move in with Donna at the beach front apartment after they are evicted from their house for repairs where she gives Donna love life advice who's deciding whether or not to move onto the next stage with Noah. Donna and Noah say I love you to each other, and they make love that night. Carly thinks Steve is irresponsible with Zack, which takes a turn when she herself loses Zack during an outing at a mall with Donna. Carly and Donna tried look around at mall and did find Zack.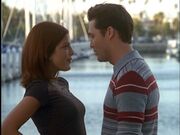 Donna starts a new photo shoot and deals with a spoiled child model and her demanding mother who spells trouble for her. Donna's grandmother is hospitalized where she tells Donna that her soulmate is David. David and Donna feel guilty about spending innocent time together to celebrate his record deal, which takes a turn when they get into a minor car accident where Donna slightly injures her back. After Noah is questioned by the police about Valerie's rape charges, he admits to Donna that he did have sex with Valerie that night at the After Dark club, but he did not know that she was drugged. Donna's addiction to pain pills spins out of control when she begins stealing pills from her father's medicine cabinet at his clinic while she also combats work pressure by plagiarizing another co-worker's ideas for her newest designs. When Noah arrives at Donna's apartment, he is waiting for Donna to open the door but no one answers it, Noah checks the window and sees Donna on the floor, overdosed on the pills.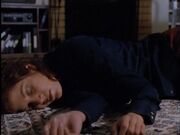 Donna is rushed to the hospital after falling into a coma from the overdose of painkillers. She comes clean to her father about her addiction to the pain pills. When Donna admits to her boss, Robert, that she plagiarized someone else's sketches, she is immediately fired. Noah asks to finance Donna's marketing of her own designs for another fashion company.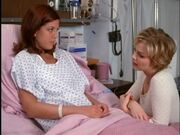 Noah goes too far in helping Donna with her work in bribing a local fashion company to set the stage for her designs and purchases. Valerie creates problems between Noah and Donna when she claims that the expensive diamond necklace that Noah gave Donna is a fake. Donna becomes jealous about a Rolling Stones magazine article detailing about Noah's single status, which prompts her to sneak away from the dance and to the Peach Pit After Dark to see if Noah will be true to her. Donna learns that Monica, a new assistato of her designs, has a psychological problem of self-mutilation and tries to get her to listen to her. Donna becomes stricken with jealousy and suspicion when an old girlfriend of Noah's, named Gwyneth, shows up for a visit. Gwyneth turns to Valerie for a little help to break up Donna and Noah by sabotaging her fashion show at the After Dark.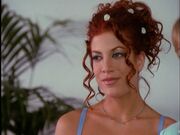 In the week before Kelly and Brandon's wedding, different views of marriage divide Noah and Donna in which he tells her that he does not believe in marriage. With a few hours before Brandon and Kelly's wedding, Donna and Noah at a loss on their relationship, she decides to make Noah jealous by going out on a date with the wedding caterer, Jacob Wallenfels.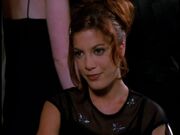 Donna meddles in Noah's family affairs by insisting they have dinner with his estranged parents. But problems further arise when Noah learns that his father is about to be indited for income tax evasion as well as questionable business deals. With a little of Donna's help, Noah achieves peace with his estranged father, which turns out to be short-lived. Back in Los Angeles, Noah's and Donna's relationship is on the rocks as he continues to mourn over his father's recent suicide over his failed business, and the fact when IRS agents show up to confiscate everything of Mr. Hunter's for income tax fraud. Meanwhile, Donna is done in by another back-stabbing designer, Carrie, who gets a job after taking credit for Donna's clothing designs.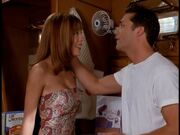 Noah turns to Valerie instead of Donna for help after he is arrested for drunk driving, and a young lawyer, named Matt Durning, approaches him for representation for free of charge since Noah and his entire family is now broke from Noah's late father's dirty business dealings. Noah continues on his self-destructive path and pushes away Donna when he sees her talking to Matt, and anyone who offers him support, except Valerie whom he challenges to a dangerous road game of chicken. Donna's estranged cousin, Gina Kincaid, arrives in town for Thanksgiving where she fibs a little about her failed ice-skating career, and secretly shows her true arrogant colors while casting an eye on Noah.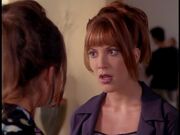 Dylan McKay arrives back in town and tries to help everyone with their share of problems. Gina sets out to prevent Noah and Donna from reconciling so she can have Noah all for herself. Gina gives up trying to break Noah and Donna up and turns her sights on Dylan. Also, Donna befriends a female gang member, named Sonia, who cannot leave the gang she's in. Sonia's girl gang member friends affect Donna's business at the boutique shop "Now Wear This!" by their presence. When the store is robbed one night, the missing Sonia becomes the chief suspect. Noah also asks Gina to help him and Nat plan Donna's 24th birthday party for Christmas Day, where Gina has a little too much to drink and finally reveals her true contempt feelings about Donna in front of everyone.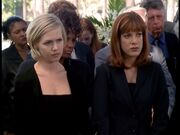 Gina begins to stir up trouble between Donna and her mother, Felice, by using their tension to play them against each other. Donna and Noah struggle to find a place to be alone at her parents house after they go away for a vacation to have sex. After Dylan accidentally injures Donna by knocking her into her swimming pool while high on drugs, he tries to confront his personal demons. Claire Coville, a rising singer, asks Donna to design her a dress for an awards show and for Noah to be her escort. Steve and Noah declare a war of practical jokes after Noah cheats at strip poker, which apparently takes a serious turn when a man suddenly drops dead and Steve and Donna try to retrieve the corpse from a missing refrigerator. Noah fool both of them.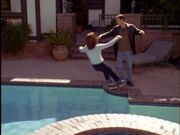 Gina begins to cause more friction between Donna and Noah when she tells Donna a concocted story about a drunken Noah making the moves on her from one particular night. Afterwards, a dejected Donna agrees to pose David's girlfriend at a business function of his. Noah makes a proposal to Donna to move in with him. But then, Gina sabotages their reconciliation by playing games with Noah over what really happened that night between him and her. Donna's anger over both Noah and Gina sends her to the arms of David. After finding out that Donna's mother is the one responsible for mismanaging her trust fund, Gina decides to sue Felice for $1.1 million.
Over Donna's objection, Kelly hires a publicist, named Pia, to boost business for the boutique store. But the devious Gina makes the situation worse when she fans the flames between Donna and Kelly. Ashley Reese, a former high school nemesis of Donna's, asks for her help in her fight against West Beverly High's drama teacher whom Ashley claims molested her years ago. Donna becomes a nervous wreck after her parents announce their decision to separate, and Noah tries to help Donna find out why her parents would want to end their marriage.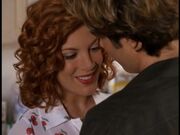 Wayne Moses, a fashion model, makes a play for Donna while Noah pressures her to keep her distance to the guy. Donna is warned by Wayne not to move in with Noah. Donna declines both to move in with Noah or travel with Wayne as his modeling career heats up. A confused Donna continues to balance her time between Noah and Wayne, which changes when Wayne takes advantage it to seduce Donna, and Noah walks in on them the morning after.
Donna throws Gina out of the beach house after seeing Gina bad-mouthing Kelly to some TV reporters which leads to Dylan and Gina to move into a hotel suite together at the Bel-Air. Noah refuses to associate himself with Donna or anyone near her, while Donna thinks that her involvement with Wayne was a mistake after he tells her that he does not want her to spend time comforting Kelly but with him only. Donna tries to reconcile with Noah, but does not find him open for talk especially when she sees him with another woman from the After Dark.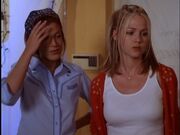 Kelly and Donna prepare the reopening of the boutique since the shooting for Donna's men's line fashions. But Gina's accident sets fire to their dresses. With that, all of Donna's friends assemble to salvage the fashions and the guys even step in as models for the fashion show. When Matt realizes that Gina set the fire deliberately to ruin Kelly and Donna, he uses this damaging information to put pressure on Gina to help with the publicity of the fashion show. Noah's attitude towards Donna and everyone changes when while hosting a new band for the After Dark, he learns that the band leader's cousin was Wayne.
David's new brash radio persona gets flack from Donna among others, but high ratings. Noah and Gina continue running their secret gentlemen's club in the After Dark, but the place attracts the wrong attention when the police raid it after several nuisance complaints and arrest both Noah and Donna. Donna have to call Dylan to bail her out the jail. Gina tells Donna that she told Felice about her arrest, which causes Donna to be upset. A homeless man's death affects Donna which sets her and Noah out to learn the history of the anonymous man.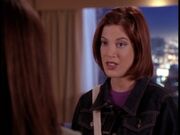 Donna learns of a past indiscretion by her father with Gina's mother, which brings out revelations that could threaten to tear Donna's family apart. Donna finally tells Gina their whole story about that they ar- half sisters, which throws Gina into anger and frustration. But Donna learns that Noah hasn't told her all of his life story when he tells her that he never went to Harvard. Donna can't let go of Noah's accident years ago resulting in the death of his girlfriend which leads to her and him considering breaking up. David and others benefit from a man's crush on Donna whom she asks out on a date that flops.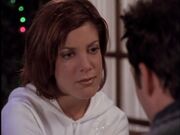 Donna and David meet promising new mates for themselves, she with an unpredictable businessman named Jerry, and he with a law clerk named Chrissy. Donna, now running the boutique shop on her own, goes out with a fashion designer, named Dan. Donna goes on the show with Matt in her place. Donna's father tries to bond with Gina who continues to be uncertain about what to do.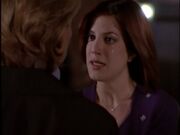 After Dr. Martin dies from a sudden and massive stroke, unspoken accusations regarding his death haunt Gina. But Felice, as always, speaks her mind accusing Gina of bringing on her husband's fatal stroke while Donna gets consul David and the rest of the gang. With everyone against her and conflicted by her past, Gina says goodbye to Donna after Dr. Martin's funeral to return to New York, but Dylan decides to stay to be near Kelly. Noah's return to drinking gets worse when he intrudes on Donna's newest date Eli. Also, David ponders his further relationship with Camille when the issue of how to satisfy her arises during their first night together, while Donna hires Camille to work at the boutique.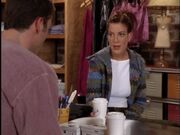 Donna brings Noah at the beach apartment to convalesce for his injuries where he begins to take advantage her loneliness to make the moves on her. Also, Camille tells David that she's beginning to resent Donna's constant phone calls to him for support which intrudes on their evenings out. David interviews for a radio job in New York City while Donna and Camille worry about this turn of events. Donna's distress over David grows after she catches him and Camille in a compromising sexual position on the floor of the boutique after hours. Camille continues to get between Donna and David when she decides, but not Donna, to market products from the boutique over the Internet. But David has concerns of his own when Dylan begins working closely with Camille for her on-line web site for the store, and Donna is drawn to the Internet salesman Mitch Field.
Steve invests in Donna's on-line venture after Janet says no to the offer. Donna rejects Mitch's business style in personal matters when his come-ons become more frequent which leads to him sabotaging her opening night of her web site after she rejects going out with him again. Donna tells David that she wants to keep their relationship strictly platonic, while Donna's mother, Felice, tells her that she has decided to put the family house up for sale. Camille returns to town after a long vacation with hope of reconciliation with David, unaware of his returning feelings for Donna who finds Camille's presence uncomfortable. After David proposes marriage to Donna, both of them contemplate the matter and finally make a big decision. Donna waiting for Kelly come home from New York to tell her that David proposes her. David and Donna announce their engagement in which all of their friends rush to give them the perfect wedding with Donna's mother, Felice, and David's stepmother, Jackie, taking over the arrangements and Nat catering for the ceremony and agreeing to escort Donna down the church aisle. At Donna's pre-wedding party, Kelly, Janet, Felice, and Jackie are in attendance as well as friends from their past who include West Beverly High principal Mrs. Yvonne Teasley, as well as Andrea Zuckerman and even Valerie Malone, except for Brandon Walsh who sends his regards to everyone via videotape. The day of the wedding goes without a hitch and at the end.
Family
[
]
As the show reached its conclusion, Donna began running a fashion business with her best friend Kelly Taylor. In addition, fitness instructor Gina Kincaid, a woman long believed to be Donna's cousin, arrived in Beverly Hills. It was later discovered that Gina was actually John's other daughter. While Gina and John were exercising together, John suffered a fatal stroke. In the aftermath, a highly shaken Donna became depressed, and felt that Gina was to blame. Eventually, the women made amends when Donna became too shaken to complete a eulogy at the funeral, prompting Gina to do it. The two said their farewells when Gina left Beverly Hills.
Romances
[
]
Donna reluctantly begins dating an interested David, who's still considered a bit geeky by the gang. Donna is also well aware of David's infatuation with Kelly Taylor. However, she slowly realises that she's falling for David and makes their relationship public at a Christmas party in her junior year in high school. They date for the rest of high school and into their freshman year of college. David claims to love Donna, but wants to have sex, so instead of breaking up with her he cheats on her. Donna is heartbroken and moves on, although it's difficult. She eventually finds love in other serious relationships, while David is forced to watch her knowing what he did. Although he also has other relationships, he wants to be with Donna and they rekindle their romance a few times. They finally end up together and get married when they are 26.
Donna and D'Shawn never had a romantic relationship but they did go out on one date (D'Shawn seemed genuinely interested in her but Donna asked him to help her make David jealous) and the two remained good friends throughout his appearances on the show.
Ray was somewhat of a rebound relationship with David. Donna seemed to love him (and stated that she did) but Ray was very manipulative and controlling - he hated her friends and wanted to monopolize all of her time. His actions later became somewhat abusive culminating in him (somewhat accidentally) pushing her down some stairs and hurting her arm. While Ray seemed to get a handle on his anger issues and the two tried to make their relationship work, when Donna found out he slept with Val she ends things permanently.
Joe and Donna seemed to fit - they both had the same expectations in their relationship and both were determined to remain virgins until marriage. The relationship had a few ups and downs but Joe was always faithful to Donna and they only decided to break up when Joe decided to move back to his hometown and coach high school football. He proposed to Donna and asked her to come with him but she decided she was too young and not ready to take such a big step yet.
Noah was a rebound relationship after Donna broke up with David the second time. The two were together through much of the 8th, 9th and 10th seasons with Noah sleeping with Val one drunken (and drugged) night and Donna briefly being torn between Noah and Wayne, a man she met in her store. Ultimately she and Noah break up near the end of the series, paving the way for a David/Donna reconciliation.
Quotes
[
]
‶
I'm wearing both contacts on the same eye!

—Donnaing
Trivia
[
]
Donna's birthday is December 25th, Christmas Day, as is mentioned in several episodes.
She had a learning disability.
She is allergic to chocolate.
Has sex for the first time with David Silver when she is 22.
Donna discovers that her maternal cousin, Gina, is also her paternal half-sister.
She had two stalkers: Garrett Slan and Evan Potter.
PRODUCTION NOTES
Donna's last name was originally Morgan.
Donna, along with Kelly, Steve and David, is the only character to appear in all 10 seasons of the series.
Photos
[
]
Episodes
[
]
DONNA DOES NOT APPEAR IN
Sister wiki link
[
]

Donna Martin at the 90210 Reboot Wiki
Notes and references
[
]