Duke Weatherill is a recurring character on Beverly Hills, 90210. He is portrayed by Billy Vera and John Prosky.
Story
[
]
Duke is introduced as Nat's bookie, who comes in and collects a few bets from Nat every now and again. A year later, 1993, Brandon Walsh starts using Duke as his own bookie, at first betting small amounts of money on sports events. Brandon starts showing signs of ludomania and it isn't long before Brandon owes Duke more money than he can pay. After Duke threatens Brandon, Nat steps in and pays Brandon's debt, telling Duke not to take another bet from him again.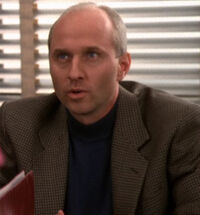 Duke is absent for a long time, returning in 1997 where Nat tells him to stay away from Peach Pit After Dark. Duke, however, has zeroed in on Valerie and makes a deal with her to cut her in on any profits he makes while in her establishment, which Val accepts. When co-owner Noah finds out about the deal, he confronts Duke and tells him to stay out of his club before he returned all of the money that had already been bet. After the confrontation, Duke approaches Valerie and makes an arrangement for an associate of his to pick up the money. However, the associate turns out to be an undercover cop and Valerie and Noah are placed under arrest.
Episodes
[
]
SEASON 2 (1/28)
SEASON 3 (3/30)
SEASON 8 (2/32)