Erica McKay is a recurring character on Beverly Hills, 90210. She is portrayed by Noley Thornton.
Character
[
]
Erica is the daughter of Jack McKay and the younger sibling of Dylan. She is a sweet, smart and resourceful kid, raised by a con-woman who essentially mistreats her. Erica and Dylan form a close bond when they meet.
Childhood
[
]
Erica and her mother, Suzanne, show up on Dylan's doorstep on Christmas 1993. Suzanne reveals to a shocked Dylan that Erica is his paternal half-sister, the hithertho unbeknownst to the McKays child of an affair Jack McKay had with Suzanne. Dylan has a hard time believing Suzanne isn't just a scammer out for his fortune, but is convinced by Suzanne's explanations over a period of time and her taking a job at the Peach Pit, but, mostly, because of Dylan's love for his new little sister, Erica. Erica loves Dylan in return and the two spend a lot of time together, with Dylan caring for Erica while Suzanne is out of town.
Suzanne and her boyfriend, Kevin, were setting up a plan to steal Dylan's money. After succeeding with their embezzlement, Kevin and Suzanne took Erica and fled the country to Brazil. In the fifth season, however, Dylan, Valerie Malone, and J. Jay Jones tracked the family down in Punta Brava, Mexico, retrieved the money and took custody of Erica after Kevin and Suzanne were arrested. Erica then lived with Dylan's mother for a time in Hawaii.
Return to L.A.
[
]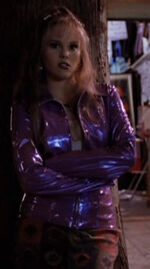 Three years later, Erica resurfaces as a teen prostitute now living in Beverly Hills, having scarpered from Iris and working for a pimp named Riggs. Brandon Walsh and Kelly Taylor spot Erica on the street and bring her to their home for safety. After going to the authorities, they discover that the primary issue is separating her from Riggs. The police were later able to arrest him and create the illusion that Erica was being arrested along with him, concealing the fact that she'd set him up.
Custody of Erica was then transferred by Iris to Dylan once again. Erica soon departed to live with him, remaining under his indirect care for a time after he himself returned to Beverly Hills, ensuring that she'd had a safer and better future. In the tenth season it was revealed that Dylan and Erica's father Jack was alive and living in Witness Protection under the alias Eddie Waitkus. As Eddie, Jack had a new wife named Lisa and had a son with her named Jack.
Episodes
[
]
SEASON 4 (9/32)
SEASON 5 (2/32)