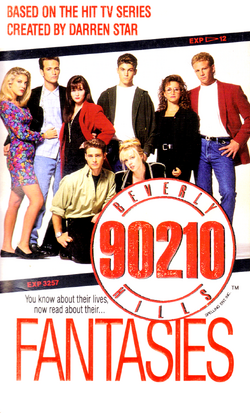 Fantasies — fourth novel in Beverly Hills 90210 book series written by K. T. Smith. It was published in august 1992 by HarperPaperbacks. The only book in a series which is not based on the show's teleplay and introduces original plotlines.
ISBN — 0-06-106-727-X
Printed in USA
186 pages
Tagline
[
]
You know about their lives... now read about their FANTASIES.
Description
[
]
THE SUMMER SUN IS FADING FOR THE KIDS OF 90210 — As vacation draws to an end, the gang of West Beverly High gets together around a campfire for a final farewell to their lazy days at the beach. When Brandon complains about spending his vacation as a cabana boy, a unique game of what if begins...
The Question — what would be the perfect fantasy of life long after the days of high school at WBH are left behind?
Does Dylan's ultimate fantasy involve Brenda or is this just a case of «high school sweethearts»?
Will thrill-seeker Brandon be an adventurer, always on the edge of danger?
Can Donna and Kelly break away from their pampered pasts, or will they remain in the lap of luxurious living?
The Walsh twins and their hip friends bare all to each other and answers they give are both funny and surprising yet somehow so right. Fantasies tells the hilarious and often touching dreams of the entire gang from the coolest zip code around.
Contents
[
]
Includes Prologue and Epilogue. List of chapters:
Brandon
Brenda
Dylan
Kelly
Steve
Donna
David
Andrea
Trivia
[
]
Every character became a successful person in their fantasies:
Brandon is journalist travelling around the world.
Brenda became a famous actress living in New York.
Dylan — a stunt motorcycle rider.
Kelly is a fashion designer.
Steve became a movie producer and runs shelter for children.
Donna also works in fashion industry with Kelly.
David is a young movie director. He is looking for a great script for his first big movie.
Andrea won a Pulitzer Prize for series of articles about civil rights. Now she has a chance to publish a book.
It's also the only original novel in a US series NOT based on show's teleplay. The other one was published in UK series — The French Rival.
Photo Section
[
]
Cover photo by Timothy White.