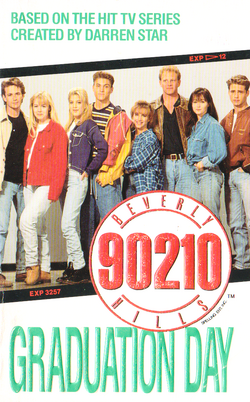 Graduation Day — eleventh novel in Beverly Hills 90210 book series written by Mel Gilden. It was published in april 1994 by HarperPaperbacks.
ISBN — 0-06-106-208-1
Printed in USA
186 pages
Description
[
]
FOREVER YOUNG — Senior prom is just around the corner and soon after, the day the kids have all been waiting for will arrive. But are they ready to let go of the memories that fill the halls of West Beverly High?
When Brandon doesn't have a date for the prom, can he work up the courage to ask Andrea?
Is Brenda going to be left out in the cold, all alone, on one of the most important nights in her life?
Will Dylan and Kelly's romantic weekend in San Francisco be the stuff that dreams are made of?
Has Donna ruined her chances for claiming her diploma with all her friends by breaking the school rules?
Can Andrea manage to compete with the new kid in town who happens to be a genius and is focusing on class valedictorian?
Is David ready to leave his high school days behind or has he jumped the gun by taking early graduation?
After fighting to maintain his grades, will Steve sacrifice his chance to graduate to stand up for a friend?
Everything's a circle, there's no beginning and no end... especially for the tried-and-true frienships of the gang of BEVERLY HILLS, 90210.
Contents
[
]
Includes excerpt from Senior Year. List of chapters:
Winners And Losers
Personal Agends
A Gina Delmonico
Prom
A Night To Remember
The Last Mile
Donna's Hearing
A Modest Proposal
Hanging Together
The Return Of The Sixties
New Horrors
Fine-Tuning
A Megaton Device
The Senior Breakfast
Doing The Project, Digging The Scam
Old Business
Graduation
Speak The Speech
Friendships That Last Forever
Episodes
[
]
Novel is based on season 3 episodes teleplay:
International Titles
[
]
Zegnaj, West Beverly (Poland)
Photo Section
[
]
Cover photo by Andrew Semel, insert photos by Andrew Semel and Timothy White.