Jamie Walters is an American actor, singer, firefighter and paramedic. He portrays Ray Pruit on Beverly Hills, 90210.
Bio
[
]
Jamie Walters was born as James Leland Walters Jr. on June 13, 1969, in Boston, Massachusetts in the USA. Th the age of 12, he got his first guitar, and at the age of 13, he started playing in garage bands. After high scool, he studied film at the New York University and acting at The Actors Space in New York City.[1]
90210
[
]
In Beverly Hills, 90210, Jamie Walters first appeared in Rave On (505). He had recurring appearances throughout season 5 (25 episodes out of 32) and was a main cast member in episodes 1 through 13 of season 6. He later appeared as a guest star in Ray of Hope (630) and his final appearnce was in Lost in Las Vegas (710).
Regarding the reasons he was cast for the show, Jamie Walters said:
‶
They were looking for someone who could sing to bring something different to the show. I'm lucky because I get to sing my songs[1]
Jamie first liked his role and said:
‶
I like him because he is the most real of anyone on the show. Everyone else is very Beverly Hills - very glamorous[1]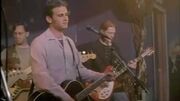 In his role as Ray Pruit, Jamie Walters performed some of the songs which were contained on his albums also in the show.
from Jamie Walters:
from Ride:
Filmography
[
]
FILM

| YEAR | TITLE | ROLE | NOTES |
| --- | --- | --- | --- |
| 2000 | The Mumbo Jumbo | Thomas Doubting | |
| 1996 | God's Lonely Man | Hustler | |
| 1995 | Burnzy's Last Call | Shannon | |
| 1992 | Bed & Breakfast | Mitch | |
| 1991 | Shout | Jesse Tucker | |
TELEVISION

| YEAR | TITLE | ROLE | NOTES |
| --- | --- | --- | --- |
| 2009 | Confessions of a Teen Idol | Self | |
| 2001 | Dead Last | Vance Harmon | |
| 1999 | To Serve and Protect | Jeremy | (2 episodes) |
| 1994-1996 | Beverly Hills, 90210 | Ray Pruit | (40 episodes) |
| 1992 | The Heights | Alex O'Brien | (13 episodes) |
| 1991-1992 | The Young Riders | Frank James | (3 episodes) |
| 1989, 1992 | Quantum Leap | Young Max, Al 'Bingo' Calavicci | (2 episodes) |
Photos
[
]
Videos
[
]
FILM
TV
MUSIC VIDEOS
LIVE
Links
[
]
Notes and references
[
]