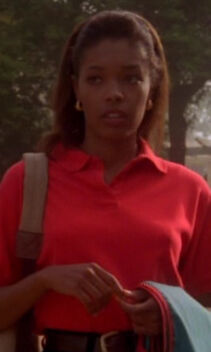 Lisa Dixon, played by Tembi Locke, is a recurring character seen on Beverly Hills, 90210, the first series of the Beverly Hills, 90210 continuity, appearing in the sixth season.
Lisa was a candidate in the Tournament of Roses Royal Court organized by Leslie Sumner.  She became fast friends with Donna Martin during the competition and had a friendly and easy-going personality, eventually being named the Rose Queen of the Royal Court, defeating Donna and all of the other girls.
When Ray Pruit showed up to confront Donna after filing assault charges against Joe Bradley, Lisa was quick to not leave Donna alone with him, having been told of Ray's abusive behavior.
Lisa was a cashier at a convenience store in a rough Los Angeles neighborhood. Donna filled in for her while Lisa performed her Rose Queen duties.
Community content is available under
CC-BY-SA
unless otherwise noted.