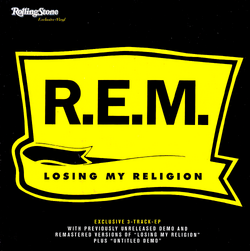 Losing My Religion — song by R.E.M. from Out of Time album. Written by Bill Berry, Peter Buck, Mike Mills and Michael Stipe. Produced by Scott Litt and R.E.M. It was released on February 19, 1991.
The song became band's highest-charting hit in the USA — reached #4 on the Billboard Hot 100 and became international hit.
Episodes
[
]
This song appeared on several Beverly Hills, 90210 episodes. But it was cut out of DVD version of the series and replaced by other songs because of right issues.
Some fans consider it as Brenda and Dylan love theme.
Music Video
[
]
The music video was directed by Tarsem Singh. It got nominations in 9 categories at the 1991 MTV Video Music Awards.
Media
[
]