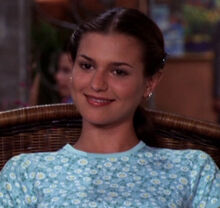 Lucy Wilson, played by Melissa Renee Martin, was a character seen on Beverly Hills, 90210, the first series of the Beverly Hills, 90210 continuity, appearing in the episode Let's Eat Cake.
Lucy was an old friend of Dylan McKay from when he used to live in the Bel Age Hotel. She was about twelve when he was in high school and after David Silver kicked Dylan out of The Bungalow, Dylan moved back to the hotel, where he and Lucy reconnected.
Lucy was a drug addict and had never left the hotel. In her childhood, she had followed Dylan around and spied on him, wanting to be just like him. She was full of attitude and called Dylan out on many things, including his drinking alcohol and living in London for years.
She resisted his advice at first, because she felt Dylan was a hypocrite, but when Dylan told her he'd go back to college if she got herself clean, she kept her side of the bargain when she showed up detoxing in his hotel room. Once she went through a two-week rehab program, she moved "back east" to start over her life.
Community content is available under
CC-BY-SA
unless otherwise noted.