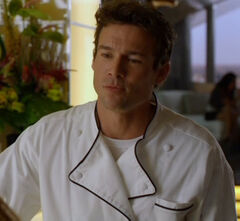 Marcello, played by Ethan Erickson, was a recurring character introduced in Melrose Place (2009), the fifth series of the Beverly Hills, 90210 continuity.
Marcello was the head chef at Coal, the restaurant where Auggie Kirkpatrick worked. He was hard to impress and strict. In the past, he had hired Auggie as a favor to Sydney Andrews. He reluctantly hired Violet Foster when she applied for a hostess job at Auggie's request.
He hired David Breck as a temporary employee, but David got into a brawl during his first night and Marcello fired David and warned Auggie. He later harshly rejected a dish Auggie prepared for the menu, despite Violet giving great reviews for it. He later stole the dish and presented it as his own.
Later, after Marcello got a look at Riley Richmond, he talked about her sexually to the point where Auggie physically attacked him and lost his job.
A few weeks later, David bought the restaurant and fired Marcello.
Community content is available under
CC-BY-SA
unless otherwise noted.