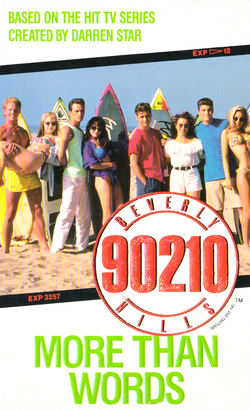 More Than Words — eighth novel in Beverly Hills 90210 book series written by Mel Gilden. It was published in june 1993 by HarperPaperbacks.
ISBN — 0-06-106-146-8
Printed in USA
186 pages
Description
[
]
ACTION SPEAKS LODER THAN WORDS... — and the gang at West Beverly High has their beach gear packed up and is ready to head for the shore for an incredible summer before their senior year. But storm clouds are on the horizon, and it looks like something or someone might rain on their parade.
Will Brenda obey her parents' wishes and stop seeing Dylan, or will she follow her heart and make a stand?
Can Kelly leave to Paris without getting to know her baby sister — or will she realize that this is a special time?
Is Brandon expecting too much from his job at the Beach Club, or will this be the summer he finally falls in love?
From sun-filled summer days in Beverly Hills to the sleek, sophisticated streets of Paris, those totally together kids of 90210 find that sometimes life throws a curve ball and you just have to follow you heart... no matter what the cost.
Contents
[
]
Includes introduction Caught In The Act. List of chapters:
Five-Hundred-Pound Gorillas
Jimbo's Little Girl
A Bad Day All Around
Dealing With Adults
Nerve
Getting Involved
Domestic Bliss
The Babe-Aloos
Experiments In Living
Twina And Sloppy Singles
Creative Parenting
A Charmed Life
If This Is Tuesday, It Must Be...
Meanwhile, Back At The...
La Cuisine
Truth And Dr. Seuss
Acting Like Turtles
Hard Choices
Episodes
[
]
Novel is based on season 3 episodes teleplay:
Photo Section
[
]
Cover photos by Timothy White. Insert photos by Timothy White and Andrew Semel.