Sarah is a character on Beverly Hills, 90210. She is portrayed by Heather McAdam.
Character
[
]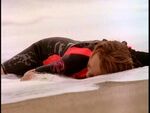 Getting in trouble with some male surfers who call Sarah "Betty", she finds herself drinking more and more. Brandon eventually meets her through Dylan, and together they grow a short lived romance. Out in the sun one afternoon, after consuming too much alcohol, Brandon has to rush to her aide and give her CPR. Sarah lives, and is later seen thanking him for saving her life.
She appears in Dylan's Alcoholics Anonymous meeting in the 1992 episode Cardio Funk, where they reconnect as sober friends. However, Sarah falls off the wagon once again after getting involved with Doug, her ex-boyfriend, once again. Although Dylan punches Doug out, Sarah is mad at Dylan and asks him to leave.
Photos
[
]