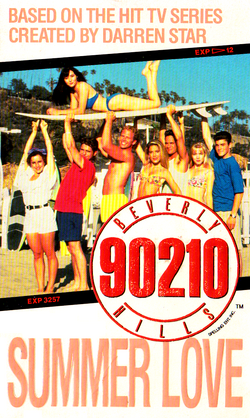 Summer Love — ninth novel in Beverly Hills 90210 book series written by Mel Gilden. It was published in august 1993 by HarperPaperbacks.
ISBN — 0-06-106-756-3
Printed in USA
186 pages
Description
[
]
SEE YOU IN SEPTEMBER? — It's the summer before senior year and life will never be the same for the kids of 90210.
Will Brenda's surprise trip to Paris only strengthen her love for Dylan?
Could Dylan find that absence makes his young heart wander?
Has Brandon gotten himself in too deep when he takes a stranger under his wing?
When the exciting world of national politics comes along, does Andrea answer the door?
Will Steve find the girl of his dreams lying on the hot sand of the Beach Club?
Should Donna follow her heart and cancel her trip to France with Brenda?
As the summer begins, the gang at West Beverly faces their last summer of freedom before the grueling pace of senior year. And they all know, somehow it will be a summer they'll never forget.
Contents
[
]
Includes introduction On The Outside, Looking In and excerpt from More Than Words. List of chapters:
Nets
Partners
Deminode
Friends
Honor
Overexposure
Finals
Real Life
Tour Guide
Real People
Closer
Au Revoir
Opportunity
Arrivals
Sand, Shucks, And Jive
More Sand
Clambake
Wind And Tide
Episodes
[
]
Novel is based on season 3 episodes teleplay:
International Titles
[
]
Photo Section
[
]
Cover and insert photos by Andrew Semel.