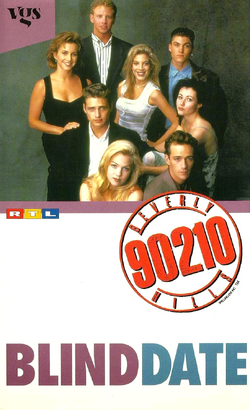 The Blind Date — fourteenth novel in Beverly Hills, 90210 novel series. It's written by Mike F. Thompson and published by VGS in february 1996 in German.
ISBN: 3802523385
Number of pages: 219
Edition: hardcover
Description
[
]
For Brenda college life is not easy: studing, hard job and no personal life. How can she meet her only one? That's why she agrre to go on blind date with Stuart — the son of her father's business partner. And this date ends up with proposal...
Kelly and Dylan also go through rough times. Somebody steals Dylan's Porsche in a robbery. As result — Dylan have some problems with the firearms. Kelly meets her ex-boyfriend John Sears.
Brandon meets vicious Lucinda Nicholson. She is ten years old, and it's not going to be a problem... Until Brandon finds out, that she is his professor's wife.
Episodes
[
]
Novel is based on season 4 episodes teleplay.