This episode depicts alcoholism.
‶
You know, the tragedy of this country, is that creeps like you two end up running it

—Dylan to bullies
The Green Room is the 2nd episode of Season 1 of Beverly Hills, 90210.
Synopsis
[
]
The Walshes come to see that style is no substitute for substance as Brandon hits the beach with one new friend who may have both, and another who fears she has neither, while Brenda is left high and dry there by style-conscious Kelly.
Plot
[
]
Brandon meets Dylan McKay, a mysterious loner who stops some jocks from harassing Scott in tech class. Dylan takes Brandon surfing and introduces him to his friends, including a troubled young woman named Sarah. Brandon becomes disturbed by the behavior of Dylan's friends, who treat Sarah like a possession. Brandon grows tired of Dylan's bad boy act after he raids a hotel room. Dylan reveals that he lives in the hotel, and only pretended to break in to preserve his reputation.
Sarah nearly drowns while surfing drunk, but Brandon and Brenda save her life. Sarah seeks help for her drinking problem, and thanks Brandon for convincing her to believe in herself. Brenda is miffed at Kelly after she leaves Brandon and her stranded at the beach. Steve's actress mother encourages him to be nice to David because she mistakenly believes that David's father is a producer.
Starring
[
]
Co-Starring

Kelli Brook as Samantha Sanders (voice)
Jonathan Pekar as Eric
Steve Messina as Duane
Raoul N. Rizik as Tony
Alex Désert as Robinson
Helena Apothaker as Dream Girl
Milt Tarver as Doctor
Troy Shire as Jock #1
Nicolas Reid as Jock #2
Quotes
[
]
‶
Kelly – C'mon before he asks for alimony
Steve – Yeah, well, after a year with you, I deserve it!
‶
Brandon – Hey, my name is, uh, Brandon Walsh
Dylan – Brandon Walsh? Scots or Irish?
Brandon – Both actually, by way of Minnesota
‶
I just don't believe in winning through intimidation. Unless of course, I'm doing the intimidating

—Dylan, to Brandon
‶
Brandon – What's this?
Dylan – Ah, a little leisure reading
Brandon – Byron: The Collected Works
Dylan – Mad, bad and dangerous to know. That was him and that's me
‶
If this is a day in the life of your basic Beverly Hills family, we're moving back to Minnesota

—Cindy to the twins
Trivia
[
]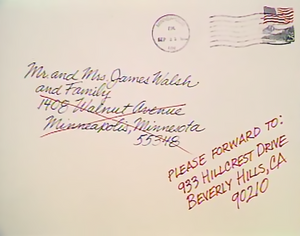 According to the addresses on the envelope in the intro, the Walshes move from:
1408 Walnut Avenue Minneapolis, MN 55348
to
933 Hillcrest Drive Beverly Hills, CA 90210
It was 105 degrees on the day the scene with the mailman was filmed, and the producers were having a hard time keeping the "snow" - which in reality was just a soap suds mixture - from evaporating in the heat.
Music
[
]
surf city | JAN & DEAN
brandon dreams of surfing
word to the mutha! | BELL BIV DEVOE
friday; the school DJ announces the weekend will be sunny
monday, monday | THE MAMAS AND THE PAPAS
DJ Mike MC dedicates a song to brenda and brandon
Photos
[
]
SCREENSHOTS
Videos
[
]
Notes and references
[
]
↑

This episode introduces the character Dylan McKay.