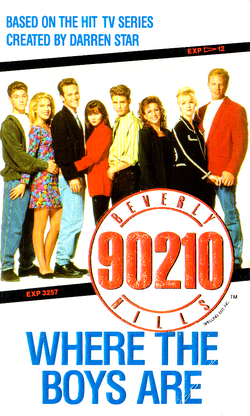 Where The Boys Are — seventh novel in Beverly Hills 90210 book series written by Mel Gilden. It was published in april 1993 by HarperPaperbacks.
ISBN — 0-06-106-145-1
Printed in USA
186 pages
Description
[
]
APRIL SHOWERS BRING MAY FLOWERS... and tons of fun for the cool kids of 90210. Not letting the weather get them down, the gang at West Beverly manages to find pretty of action as the raindrops continue to fall.
Will Donna's wish to meet the hottest new singing group come true or will she face unexpected heartache?
Could Brenda's secret trip to Baja with Dylan spell the end for their relationship or is it a new beginning?
Is Kelly excited about her mother's upcoming wedding to David's father or is she hiding beneath her cool smile?
As the end of the scool year draws near, the Walsh twins and their friends pitch in to help with the wedding plans. But even the best-laid plans fall apart, and sometimes, all you can do is pick up the pieces and move on.
Contents
[
]
Includes introduction Independence Day. List of chapters:
It Never Rains In Southern California
David's Big Favor
It Is Better To Travel Hopefully —
— Than To Arrive
A Lot To Answer For
Silver Lining
Wake Up, Little Brenda, Wake Up
Running Away From Home
Reality Checks
The Cookie Crumbles
Sending Up Flares
Purgatory
Overtures
Trust
The End Of An Era
Episodes
[
]
Novel is based on these Season 2 episodes:
International Titles
[
]
Mannen! (Nederlands)
Wakacyjna Milosc (Poland)
Photo Section
[
]
Cover and insert photos by Timothy White and Andrew Semel.