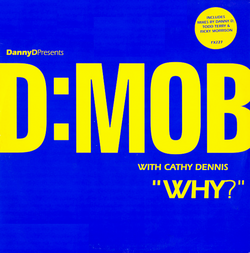 Why — song by Cathy Dennis from Beverly Hills, 90210: The Soundtrack album. It was written by Cathy Dennis and Poku, produced by D:Mob. Song is recorded and released in 1994. Song is dedicated in memory of Philip Hall — he died in December 1993.
Single
[
]
UK and Europe CD Single
Why (Radio Edit) — 4:07
Why (Tee's Radio Edit) — 3:41
Why (R&B Edit) — 4:05
Why (Monster Club Mix) — 7:44
Why (Tee's Club Mix) — 6:51
Why (Dean Street Mix) — 8:11
Episodes & Music Video
[
]
Music video was directed by Jason Priestley for season 3 closing credits of episodes A Night To Remember and Something In The Air. Cathy Dennis also appeared as guest star in A Night To Remember, where she performed her songs Moments Of Love and Touch Me (All Night Long).
Lyrics
[
]